Bitch Stole My Face Part Deux
CAN YOU SMELL THE PUMPKIN SPICE?????????????????????????????????????????????
HERE WE GOOOOO!
Fall2016 Makeup Trends
have fun make it your own
Black Eyes
Punch who ever you want in the face to be on trend. very important.
joke.
Black Liner, Black Glossy Lids. Black Matte Lids. Black Smokey Round Eyes. Do what ever you want keep it black.
Gothic Inspi
focus on the dark lip, doesnt have to be jetblack but oxblood is nice, dark blue.
you can combine look numero uno with a dark lip and still be trendy AF.
GLITTER
lips, eyes, under eyes, eyebrows. You can add some sparkle in the inner corners of your eye for subtle glitz. I find pigments are best, from here and here. I also like to use glitter that you'd get at a craft store , just lay down a cream based eye shadow/lipstick within the same color family as your glitter. I want you to look like a fucking fairy exploded on you.
Glow
................Great news! highlighting is still a thing!
QUEEN E
Fall clothes with high neck lines and ruffles are taking cues from the Elizabethan Era which means so does the makeup! WOOT! I think this is so fun. Rosy/Peach cheeks nothing else except for maybe a lip stain.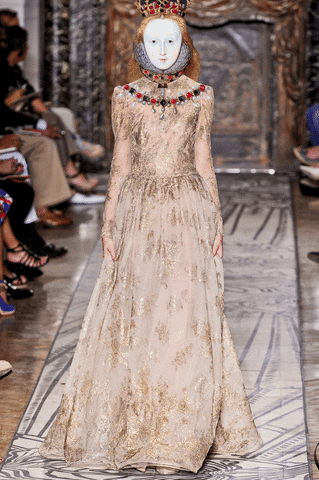 You will see me walking around Stop & Shop with that exact look.
Crown and all.
Artsy Fartsy
Play up you lashes with a different color mascara, lilly ghalichi just came out with a lash line that are different colors. Think colored sharp lines, color blocking lids, and patterned eye shadow- dots, lines- almost like a twister board.
RIGHT HAND BLUE, BITCH!
~On the Runway we saw a lot of track suits, capes, victorian inspired clothes. LEATHER <3 <3 <3 <3 <3 <3 I mean, what a time to be alive! VELVET IS BACK! THANK YOU JESUS!
Take the trends and run with them, the looks are endless!