Lip Injections: A Love Story
So let's just hop right into this, shall we? I've been getting my lips done for almost 3 years now. I've tried pretty much every filler and have gone to different people but the past is the past dahling and we live in the now! But you already know I'm going to start from the beginning and give you more details than you've asked for, right?
If you're here for the short version, do yourself a favor and scroll down to the end because this is lengthy AF.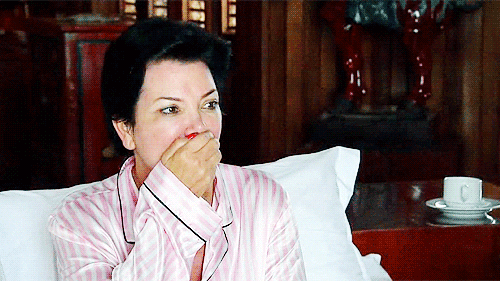 Our love story begins when I made the executive decision at 20 that I wanted my lips done for my 21st birthday.
This was the convo, "Jan, I'm going to get my lips done for my birthday."
Jan replied, "Ok, great."
I ended up getting them done at 23, sometime in December.
And just so you can make a mental note, my birthday's in March.
Irrelevant.
For those of you who don't know or have been living under a rock, you don't need to go to a plastic surgeon to get fillers. It's a smart business decision for doctors/nurses looking for fast cash, that's why most do it.
I used to do social media marketing for an OBGYN that was great with a syringe of Botox. She wielded that tube of gold like it was a magical wand and every one of her patients had their annual pap smear followed by a frown line plumping sesh. Oh, and guess what? Her work was amazing...the filler...not sure about anything vag related.
I bring this up because if you are interested in fillers it is so important to look at the work!
DUH!
Doctors make it easy for us now and display their shit on Insty, Facebook, and everything social media related. Research if their work is consistent. Are all of their clients over done? Do the lips look even? Are they too fake looking?
Get yourself lost in an Insty hole and stalk the people tagged in the photos. Do they seem like their style is being catered to the client or is their work based on a signature look that they like?
I was in the dental field, obviously surrounded by dentists, so the work that I had seen that I actually liked was done by a Periodontist. His work was natural and very conservative and although I was set on having lips being plumped up so big they'd shake like an ass when I talked, I decided to just take it easy and tell him what I really wanted,
"I like the shape of my lips so I don't want that changed, I just want them slightly larger and I want most of the product focused on my top lip."
I have bow lips so my upper outer lip naturally falls in accentuating the cupid's bow. I wanted everything pushed out, not falling in. He did it.
You could barely tell I had anything done but he did what I asked, and overall it was a good experience.
Of course I psyched myself out before we started- clutched my pearls and had an anxiety attack. I was convinced he was going to stab me in the eye or something and that I'd have to go on Botched.
When I sat in the chair before he started the injections he put a topical numbing cream over my lips and we waited about 10 minutes before he started injecting.
Side note- He used Restalyne .
I did not feel a thing! I didn't wince or tear, and he was done in about 15 minutes. When I looked in the mirror I felt that I still looked liked me which was good. They were slightly bigger, and the sides of my upper lip were a tinge fuller. I don't think he even used half of a syringe. I was on a filler high so I was happy regardless. He told me to ice for any swelling and lather up in arnica gel for bruising. I did, and I had zero bruising and no swelling- my lips were just rock hard.
He told me they'd last somewhere between 3-6 months. I think they lasted 2. I know you're going to ask me how much I was charged and I'm going to tell you- they were free. It was a referring doctor and I did social media work for him when he started his own practice so blah blah blah here we are. We did some more touch ups for a while but I just wasn't 100% happy. Even though my lips weren't rock hard anymore, and the product became smoother, I felt they were bumpy and it just didn't feel like lips to me.
I also want to tell you I did get a touch up with ZERO numbing...yes it hurt. On a scale from 1-10 I'd say it was a solid 6, nothing too crazy. I wasn't screaming or anything but I definitely winced and had those silent, slow roll tears dripping down my cheeks.
I decided not to get them done anymore until I got lost in another Insty hole and found the very talented Nayera's page whom was pretty much based out of California...LOL..GREAT! I was following her work for a hot minute when she announced that she was coming to JERSEY! YAAAS MY PRAYERS HAVE BEEN ANSWERED!
A few months went by and I didn't act on her availability here until January when I called LashHouse. Nayera was great, and the price was right. She had used Juvederm with lidocaine so there was no numbing cream. IT HURT LIKE A BITCH. She was so fast that the numbing didn't kick in until after she was done. The lips looked great ! Bigger, smoother, no weird bumps. Loved it so much more than the Restalyne. They also softened up faster than the Restalyne and lasted longer. But I bruised so badly, it looked like I was punched in the face, but honestly I could give two shits... a week later and I was fine. She did't use the full syringe either, and I was fine with that, price was around $450.
She had told me that she would be back in 3 months that if I wanted my lips to last a year she would recommend seeing me just for a quick fill. Ok , great! Looking forward to it.
She never came back to the east coast as far as I know, so here I am, again, on the hunt for my new lip queen/king. However if you live in Cali, find this woman, she is amazing and I highly recommend her OR if you are just looking for lip inspy click here
Nayera's lips lasted me around 6 months, honestly, I could have gone longer but I wanted my refill and I wanted it ASAP.
Enter Astin from Aydin Center For Plastic Surgery, What a gem she is. I made an appointment on a Wednesday, was in the next day. They had numbing cream thank the lordttttt. Didn't hurt at all, was in and out and went straight to work. Barely had any swelling or bruising and, as usual, I didn't use the full syringe. HOWEVER, she saved it for me which was AMAZING so when I'm ready for a touch up I don't have to pay another $500.
Now here's what you really need to know about lip injections: if you scrolled from the beginning, welcome. If you actually read that entire saga, good for you.
*This is what works for me and maybe you too, but if your lips blow up, not my fault*
1. Arnica gel & Arnica pills are your best friend, especially if you are sensitive/ have major anxiety about swelling and bruising, use before and after.
2. Bromelain Pills if you're really that nervous about bruising. Feel free to also eat a shit ton of pineapple, it will do the same thing. I personally never did this and I bruise when the wind blows, I was fine with just the Arnica.
3. If the doctor/nurse doesn't use a numbing topical don't worry, it's fine. Some won't use it because they feel that when you're numb, your lips become distorted, thus not showing your true shape. I've had them with numbing cream, and without, and my lips looked great every time.
4. Does it Hurt? Yes and No.
Honestly the initial pinch doesn't hurt; it's how fast they administer the filler. The pressure is what makes it hurt. I won't say anything because who the fuck am I, but the slower they put it in the less it hurts.
That's what she said.
Moving on.
5. Wait a good 30 mins to put on gloss and/or lipstick. Also if you are numb, don't be an idiot and eat something--you'll bite your tongue or new lips.
6. ICE, duh.
7. Do the Juvaderm or any variation of it.
8. If you are looking for ass shaking lips, you're probably going to have to build on product. 1 syringe may not be enough so be prepared to get your wallet out.
9. Always ask if they save syringes (usually up to a year) and if you don't use the entire syringe is it less expensive (usually no).
10. $450-$600/Syringe. If you pay less-pray it's not cement, if you pay more you're an idiot.
11. If it's your first time getting your lips done, just know that the filler may "deflate" faster than if it's your second + time. Building on product is key for a long lasting plump!
12. There are injections that dissolve filler. So say you're over it or just don't like how your lips look - more needles, but your problems are solved! Here is a vid of my first lip goddess Nayera dissolving beauty guru @iluvsarahii AKA Karen's lips.
11. Groupons are for gym memberships and other stupid shit, not injectables and tummy tucks.
12. Lastly, ask about the limitations on the "coupon code" you found on Insty because you better believe it's probably not for what you want.